We would like an online catalog so how does it all happen?
For a successful build of your online catalog it is important that both ourselves and you know what is required before we start. The key to a successful result is making sure we have everything right the first time. Before we start to work on your website, the design, text and graphics for all the pages you would like us to start for you are required.  Because you can manage the content yourself, changes can be made any time by logging into the secure administration. The following flow diagram represents the process for your development.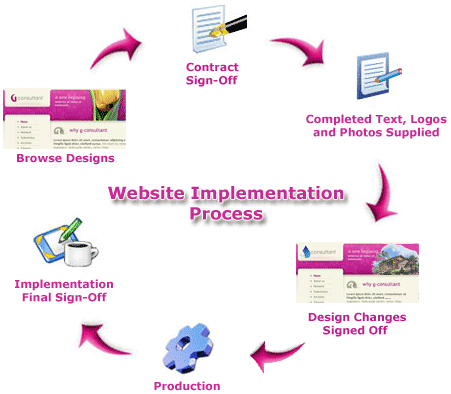 Steps for developing your online catalog
Contact us to discuss your requirements. Browse sample designs.
Complete the paper work so we know more about you and what you require.
Supply all the text, graphics and select base template.
We will make any minor design changes for your approval.
The website will be completely developed ready for public viewing
Website will be signed off as completed and made available to the world wide web.
You will now be able to start adding products, managing categories and information pages.
Your online Catalog will be ready for you to add products in 5 working days of the content supplied and design signed off
If you would like to get started or have further questions. Please contact us.
If you would like a custom development go to www.intelliserve.co.nz for a complete turn key website design and hosting solution.